During the CQ WW DX CW contest (November 29-30, UTC), Scott N6MI (little pistol) was guest operator at the AF6O (big gun) station in Pinon Hills, California (DM14ej).
With help from Jim (AF6O), Sheila, and Scamp (the dog), N6MI piloted the station to a gross score of 1,564,028. This included 1,456 QSOs, 120 total zones, and 268 country multipliers (80 through 10 meters).
N6MI's best band was ten meters (428 QSOs, 30 zones, and 76 countries). Conditions were excellent on most bands, though N6MI recalls that conditions were "5% better" in the October CQ WW DX SSB. Both contests included long runs on 10 meters on Saturday morning (California time). Often, the biggest "problem" was where to point the beam because the bands were almost always open in more than one direction.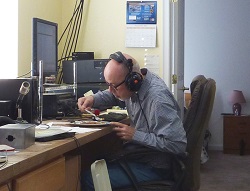 N6MI was very impressed with the twin AF6O delta loops on 40 meters. N6MI reports that some European stations just popped out of the noise on the EU-VK loop. N6MI's highlights include: being called by a VU2; working deep Asians during the entire contest; working Europe on 40 in the early evening; proper English tea breaks; breaking most pileups with the first or second call; the Sunday sunrise (windy with angry clouds); taking naps on a real bed (instead of the floor of the N6MI contest van); the luxury of operating without having to drive to a remote location in the ham van; and making AF6O laugh with silly CW frivolity.
N6MI had a macro for "AF6O is at the paddle" (to be played at appropriate times during the contest). N6MI acknowledges that his CW is substantially better on Saturday, when he is rested. N6MI was pleased with the meal service provided to guest operators; AF6O would not confirm that this service is available to all visitors.