Contesters and DXers alike are well aware that propagation is often enhanced considerably to and from an area in the world where it is sunrise or sunset, something we call gray line. Way back in the days before computers, a company named Xantek manufactured a product called "The DX Edge." This wonderful tool consisted of a series of plastic slides, one for each month, that slid back and forth through a "carrier," or flat Mercator map of the world. This simulated the earth's rotation, and allowed us to see which parts of the world were in daylight, which were in darkness, and most importantly, which were in the gray line. It was an ingenious creation and was quite popular in its time. See picture below.
Fast forward to today, and we have computers and software to do this for us. There is even a small version of this included in the popular N1MM+ contesting software.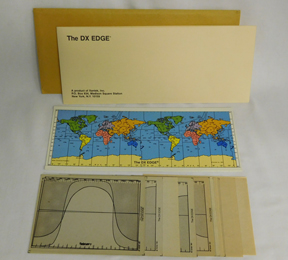 Perhaps one of the more well known products now on the market is the Geochron World Clock and their Digital 4K version. They are beautiful devices and quite functional.
The new kid on the block is the Veritium HFClock, manufactured by Veritium Research. Veritium's primary business is medical equipment but the engineers are hams, and they created the HFClock as a side project. They released it to the market about a year ago, and it has evolved steadily since then through approximately monthly software updates.
The HFClock is much more than a clock. Most of the screen space is occupied by the Mercado map with daylight and darkness shown. And it doesn't end there. The Clock comes in a few different desktop models with frame as well as a Raspberry Pi version that connects to the user's own external monitor. These Clocks are currently available exclusively through Gigaparts.
It was this latter version (Model 1850-RP) that caught my attention. I was interested in running it to a large monitor hanging above my ham station.
Mine arrived quickly and I set about to get it operational. Unfortunately, the one I received was running a little older version of software and the short and sweet quick start flyer did not match the software on the unit.
The first step upon booting the unit up is to connect to the internet, either wired to your modem or router, or via wi-fi. I chose the latter since my router is across the room from my ham station where the HFClock was going to reside. I made three attempts to connect to my wi-fi but was met with failure each time. The Clock told me an invalid username or password had been entered. There is only one user review at the Gigaparts site as I write this, and he too could not get wi-fi working. I reached out to WB0OEW because it appeared to me (thanks to our world wide web) that he was the creator of this device. Within an hour, he responded but asked me to contact Veritium support. Per his agreement with them, they handle all inquiries related to this product.
So I did. Veritium is in New Jersey and it was now well past their closing time. Never-the-less, a response came back from Gino Morello, N2TBN within minutes. He happened to be at home and saw the email come in. He inquired as to which model I had. I sent my answer back and headed to dinner. His response came back quickly but I did not have a chance to see it until the following morning.
Gino recommended that I temporarily connect the Clock via CAT5 to my router, boot up, and select YES to udpate to the latest firmware. I was then to power off and disconnect the CAT5 cable, then power the unit back up and go into Setup. Then enter my wi-fi info. He told me he would be in the office and provided his direct telephone number.
His instructions worked perfectly and my new Clock connected to the wi-fi router without issue. I decided to call Gino anyway and ask him to quickly walk me through the many onscreen options. He was more than happy to do so, and in fact, I could tell how excited he was about this product! He sounded like a kid in a candy store!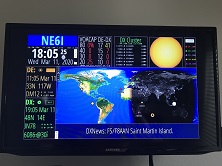 As you can see in the photos, you can enter your call sign (we hams are vain son of a guns, aren't we?) and your grid indicator. Naturally, you can change the font color and background color of your call sign to something that you prefer. The clock connects to an NTP server via the internet for very accurate time. UTC time is displayed in the upper left and your local time down lower on the left side. You can elect to turn off NTP and manually change UTC time to whatever you like, allowing you to see daylight and darkness areas at that time of day. Nifty!
You can click anywhere on the map and see information related to that location (displayed in the lower left where it says "DX." That box will include distance from your QTH and beam heading. You can click on the heading line and toggle between short path and long path headings.
The box to the right of your call sign can toggle between VOACAP info (MUF and LUF), sunspot numbers, and solar flux. The next box over along the top can display a DX Cluster, Planetary KP, or GOES 15 Xray information. I had some trouble getting it to connect to several clusters but finally found one that worked. I don't find that display particularly useful because there is no way (that I know of) to set filters, but it's an entertaining piece of the display. It may be that if one logs into the cluster via the web or a cluster client, sets the filters, then connects via the HFClock, the filters may work. I haven't had a chance to try this just yet. I should mention that you can click on any displayed call sign in the DX Cluster window to instantly see information about that location in the DX window in the lower left.
To the right of that box is a display of the sun. The user can toggle through several options there as well. Composite, Magnetogram, and 6173A related to the Solar Dynamic Observatory are the options.
The upper right corner of the display shows the NCDXF beacon key. Clicking on this box toggles display of those beacons on the Mercado map. There is also an option to turn your display on and off at times you specify within this box. This, like most other things in this product, was suggested by a user. His display was in a room where he wanted it to automatically turn on and off at times he desired without any interaction on his part.
By the way, the windows on the left side of the screen (DE and DX) also show sunrise and sunset times for you and the DX location you have clicked on.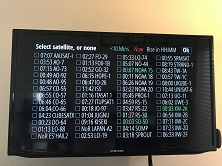 The user can click on the letters "DX" in that lower lefthand pane to bring up a list of satellites. You may select any one of them to display tracking information on the Mercado map in real time. During my call with Gino, we looked at a couple of them together. Ironically, the International Space Station (ISS) was flying overhead above my QTH, and we watched it pass through the window showing potential reception at my location (also displayed on the map). Very cool! Gino tells me that the user may edit the satellite list and RSS feed sources (described below) by tunneling into the HFClock using SSH (IE, via Putty or similar software) from another PC elsewhere on your network.
In the very lower left of the Mercado map, you will see a small box that says "RSS." Clicking on that toggles a news feed along the bottom of the map. The user can click on any news item to get the full story on that headline. As I type this, I am seeing some DX news (including the recent VP8PJ DXpedition).
The unit itself is very small, about the size of a pack of playing cards. I was happy about that because I don't have a lot of room on my desk. It does have four USB ports (in addition to the port for CAT5). I use a wireless mouse to click around on the display. I used a wired keyboard in my first attempt to do wi-fi set up but this is not required as the unit displays a screen keyboard that can be used in conjunction with the mouse to enter text. The unit does run a bit on the warm side so I recommend taking that into account when deciding where to place it. It should be able to be placed on the back side of your monitor using Velcro or something similar if desired. Video out to the monitor is via an HDMI cable (not included).
Gino tells me that coming soon is the ability to control certain models of antenna rotator by simply clicking on the map (and I presume a DX spot)!
I must say, I am really enjoying this HFClock, and I found Gino's enthusiam exciting. He told me more than once that if I had any suggestions for further improvement or display options to please let him know. The product's evolution has been driven by user feedback! I have mine connected to a 32 inch display hanging on the wall above my station. You are limited in this regard only by your creativity.
The manual for the unit can be found on Veritium Research's web site, and a couple of videos can be found on YouTube.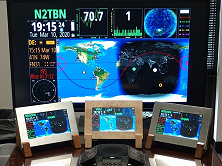 Kudos to Veritium for a very fine line of products! Click
here
for more information about their clocks, and remember, Gigaparts is the current U.S. distributor.
less