In 2006 a handful of ham radio operators from our local club got interested in contesting. At first we had no permanent place, so setting up for a contest was quite a task as everything had to be built from scratch.
This eventually changed after a field day activity at a farmers place nearby. Following talks, we ended up having a perfect spot on his property, some 700 yards from the nearby village of Kamerik. This was a perfect location without QRM and a perfect take off in all directions.
At that time we were with 7 operators and we made a plan to finance a sea container and create a Multi/Two contest environment inside. This was achieved in November 2009 and this made our contest life far easier. We even have a bed for short sleeps during marathon operator hours. Nowadays we have six operators doing the best we can in 24 and 48 hour contests. Our main goal is to have fun and be competitive at the same time.
On top of our container we have a crank up tower; the total height is about 60 feet with clear sight to all wind directions. Atop that is a 3-element triband yagi. Other antennas such as verticals and dipoles for the low bands have to be installed ahead of a contest. In the early beginning our group installed verticals for 10/15/20 as well, until August 2012 when we bought a mobile tower for another 3-element triband yagi. This is a 200% improvement and now with the higher bands wide open, it is a delight to operate.
Just ahead of a contest we make a rough scedule where no-one is really forced to be at the station. Family matters and other joyfull things of life are as important as making 2000 Q's in a weekend. The rule is fun and priceless friendship, no pressure! Big gaps in active hours are more common with just 6 available operators.
We always find ourself very lucky to be on a quiet location like this. The absence of man-made noise is stunning and fascinating compared to home. The flat wetland helps putting out a strong signal, at least on the higher bands. When we call in pile ups, we mostly get through quick and a couple new ones (VK9MT/ZS8C/K9W) were worked with little effort. The 40/80 and 160 meter verticals work well, dipoles with the apex at 18 meters marginal to good. Because of the low noise envirement, quite different from our high noise cities, we go there now and then to have fun on HF outside a contest as well.
Now and then we have guests operating with us. CW-WW-SS-2012: W7BIA. Field-days: W6GMU, PA5WT and PA3FAL.
We are there in the CQ-WW-SSB/RTTY/CW, ARRL DX-SSB/CW, BARTG RTTY, Field Day-CW and PACC contests. We all have families and other interests varying from Harley Davidsons to making music and fishing for carp. Therefore, this is the best we do.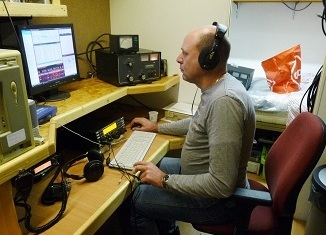 PA8F - Fred:
My first experience with radio was in the eighties. It all started with CB radio and I got infected by the radio virus. In 1986 I did an exam together with my dad for our full license (CW included) and got the call sign PA3FFQ. My dad got PA3FFR at that time which he still uses.
After eight years of radio activity on the VHF bands I lost interest in radio. Until the year 2006 when my good friend Wander PD1DER got his Novice license and became active. That was the trigger for me to become radio active again and I got myself the call sign PA1WFB. From that moment I had just one goal and that was to work all DXCC countries. It took me 16 months to apply for my mixed DXCC award. In august 2008 I changed the callsign to PA8F.
I really enjoy contesting with the contest group PG6G. I'm also interested in awards. In October 2010 I was part of the DX-pedition PJ4B to activate Bonaire as a new DXCC. My favorite modes are RTYY, SSB and CW.
PA3GVI - Rob:
I became a licensed Ham in 1994 and my main interest was DX-ing. At that time I was never too serious about the DXCC program, this changed in 2004 when I met Dave Patton/NN1N. I had 175 DXCC mixed then and tried to work every 'new one' which got on the air.
At the present time I have 329 DXCC confirmed/Mixed. I took part in several trips abroad, LX, HB and eventually to PJ4 to celebrate the birth of a new DXCC entity in October 2010.
I love DXing and contesting with our team from our nice quiet location in Kamerik. My favorite mode is CW followed by RTTY and SSB, and I love the low bands!
PA3GVI on Youtube: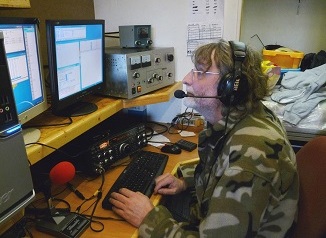 PA2JAM - Joop:
No Jamboree-callsign, I´m only JAMming the band! I was born 1960, as Johannes Arnoldus Maria Schalkwijk.I live in the city of Woerden with my wife and two kids. My first experience with radio was at the age of four, by being struck with HV at the back of our tube-radio. I have been passionate ever since, but with respect for high voltage hi!
I joined the group by the end of 2006. I enjoyed building and engineering the K3 from scratch, (still making it better!!). It will never be a 'big gun' station, but hope it will be a 'little pistol'. I Like contesting, but in a humoristic way. I have to break out the 5-9 rule now and then by trying a joke or giving unsollicited compliments for the signal strength and/or audio.
Don´t hesitate to ask me for a test over the air, I am always willing to help. I Hope to meet you somewhere somehow, and don´t forget to ENJOY the hobby! Seventy Trees! (almost a wood!) Joop. (to pronounce like: 'hope' with a jay) hi.
PA4B - Rik:
I like working DXpeditions, special calls and contesting. Favorite mode: RTTY. I operate the other modes too.
PA8A - Peter:
Licenced in 1960, World first DXCC 341/351. One man DXpeditions to FS FJ PJ2 PJ4 PJ5 PJ7 PJ8 VP2E P4 8Q7
The PG6G website can be found at:
www.pg6g.blogspot.nl
. (The PG6G picture page has links to pictures from several events).
PG6G on Youtube:
PACC 2013
20 Hours in Heaven
Personal web pages:
PA3GVI
PA8A
PA4B
PD2JAM
PA8F
More pictures:
Looking West
160m Vertical
Winter - Looking SE
Oldest Member NL-11607
Thank you Jim/AF6O for inviting us to introduce our contest station. Hope to make contact with many of you out there somewhere on the Globe! Rob/PA3GVI and the PG6G team
close