My name is Mikael Larsmark, SM2WMV and I'm 31 years old. I got my ham radio license when I was 15 and have always been having a big interest in building things.
Many of you active contesters on the west coast has probably heard SJ2W on 20m time and time again while the band has been rather dead towards Europe. With a station located up in the north part of Europe we have the advantage of having west coast openings very late and at times during full nights on 20m, sometimes even 15 but rarely on 10m.
This is our chance of being competitive and with absence of aurora we can even sometimes be rather competitive in Europe. However, when that layer of auroral absorption is there, we have no chance at all regardless of how big stations we build.
The SJ2W station was started to be built in the autumn of 2008 when I bought a QTH located 64.5 degrees north about 180km from where I work.
The location was selected such that ham radio friends that I wanted involved in the project would not have such a long distance to travel, actually I am the one having the second furthest travel distance to the station.
It is not a station being built with a big budget but mostly paid with a normal workers salary, so a lot of the equipment we need to build ourselves, such as antennas, antenna switching, control systems etc.
At the beginning I made plans of what I wanted the station to look like within a few years. Things have taken a bit longer than anticipated but at the same time the plans have also grown.
The idea has always been to make a competitive M/S with four operating positions or SO2R type of station with high flexibility.
Each band is supposed to have two or three antenna systems with one of the antenna systems totally independent of the other bands.
Lately we have also started to do what I call inband QSOs, where we do S&P on the RUN-band while the RUN-operator continues to work QSOs like normal. That way we are able to work mults on the running band a lot faster and we can increase the number of QSOs as well. In the Russian DX for example we worked 2232 RUN QSOs, 657 S&P on the run band (inband) and 370 QSOs on the mult radio.
The way we currently do this is that we have a vertical that is located about 450m away from the main antennas which the inband station use to listen, but whenever he decide to transmit the main antennas and amplifier are shifted from the RUN-station while the RUN-station gets to listen to the vertical. This is however not optimal and plans are to improve this system this summer by putting up a 30m high tower where the vertical is today, and put up a tribander + 2el for 40m which the inband station will use to both transmit and receive.
The whole station is controlled with a control system which I have designed and built myself that I call openASC. With this system we can control the whole station with a single little box and in this way all operators can access all functions at the station without needing to yell to another operator to turn some antenna. It makes operating the station very easy and safe.
During this 5 year period we have broken a total of 1 relay in the switch system but this was because of a software bug. By using this system we are also able to remote control everything at the station and with two remotes currently setup using remoterig with a TS-480 and an Elecraft K3, the guys involved in the station can have fun from home as well.
The plan for this summer is to try get the already mentioned inband tower up and running but also to put up another OH8QD 60m high rotatable tower. This tower was built by OH8QD in 1983 and put up in Moskojärvi which is far up north in Sweden. We were given the tower for free as long as we took it down so the cost for this was the expense of the crane for a few hours. The tower was in excellent condition since it was galvanized and the intention is to have a 5x6 el stack for 15m in it and also a 3el for 80m.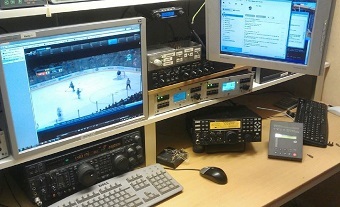 It still surprises me today the scores we have been able to produce at SJ2W. The number of QSOs we have been producing in the M/S category is far over what I ever thought was possible from up north and what had been done before. Our highs have been close to 7800 QSOs in CQWW SSB and 6000 QSOs in CQWW CW and we've been setting a lot of national and Scandinavian records that we are very proud of.
The whole station project is very well documented on our website
www.sj2w.se
. I update the website several times a week during the more busy periods so that people are able to follow what happens and hopefully get inspired to do projects themselves, so be sure to check the website out! I would like to encourage more station builders to try sharing their work for others to get inspired. It just takes me a few minutes to update the website.
More pictures:
1
2
3
4
5
6
73 de Mike, SM2WMV (SJ2W)
close