Welcome aboard to new member Douglas, N6PZK who hails from Fallbrook. His first contest was the California QSO party back in 2013. He won the new contester category that year as KJ6ZQP. He's been hooked on contesting ever since! He moved to his current QTH a little over three years ago and has been constructing a new shack since that time. He loves both DXing and contesting. He is a member of SCDXC, the Los Angeles Amateur Radio Club as well as the Traveler Contest Club. He is a former marine and we thank him for his service.
The 2018 CQ WPX SSB results were published last month. Axel, KI6RRN placed second in the U.S. Single Op Low Power category. Alex, W6AFA was second USA 7 MHz High Power. Bill, W8QZA piloted W6QU to second USA Single Op All Band QRP. And Dick, W6TK took second in the 6th District All Band High Power. WN6K scored second SOABLP in the 6th District. Full results at
.
The WRTC Sanctioning Committee has chosen the Bologna, Italy area as the location of the 2022 WRTC contest. The area is where Italian inventor and electrical engineer Guglielmo Marconi was born. Marconi is known for his development of long distance radio telegraph. WRTC is a contest within the IARU contest and brings together many of the best contesters in the world to compete against each other on a level field using similar stations and antennas.
As many of you have heard, whether on the SCCC Reflector or any number of other places, Paul Bittner, W0AIH passed away on Wednesday, Oct 31 due to a tower accident. He had been working on his 15 meter tower when a pulley failed. Paul was an incredibly active contester and most of us have many, many contacts with him in our logs. Pictures of his incredible Wisconsin antenna farm can be viewed on his QRZ web page. The accident reminds all of us to always, ALWAYS work with the utmost safety in mind, no matter what we are doing. RIP Paul.
You may not have heard but a group of young (compared to me anyway!) contesters, including some from the SCCC, headed to Cayman Islands in late October to operate the CQWW DX SSB contest as ZF1A. The group included N6MJ, KK6NON, KI6RRN, KI6SMX (KI6RRN's brother), N6WIN and JH1NBN. It's great to see some of the younger contesters getting to operate from the other side of the pile in such a large contest. For those that don't subscribe to the SCCC Reflector nor watch the comments on 3830scores.org, what follows is Dan N6MJ's comments on the experience.
A big thank you to Andrew, ZF1EJ, and CARS for allowing us to operate the contest from his home QTH on the beautiful island of Grand Cayman.
Originally Yuki, JH1NBN, was going to operate this contest as a M/S with Joe W6VNR. Joe did this contest from ZF for many years. Unfortunately Joe passed away earlier this year. He will be missed. I reached out to Yuki to see if he would like to team up with us and he was kind enough to allow us to join him. As we started to form the team, we decided to do a M/2 so we could invite some of the younger members of the club. Axel KI6RRN, Adams KI6SMX and Levi KK6NON are all low 20's or younger and were a big part of the team. It was nice to be able to involve some of the younger operators and give them a chance to operate from the DX side.
This was our first time operating from ZF1A as a M/2 in CQWW SSB. Most everyone was here for the first time. There was a ton of work to get done before the contest started. Luckily most of the operators were able to arrive either on Monday or Tuesday before the contest to get everything done. John K6AM wasn't able to join us onsite but he was on call as our technical advisor. He helped design the station layout and was able to walk us thru all the problems we encountered.
We were very fortunate to be sponsored by Icom. We were able to operate with 3 IC 7610's and everything worked great even in the tough multi op setting. In addition to that, Vibroplex allowed us to use the new Inrad W1 headsets for the contest. The headsets were a big hit and everyone was happy with their performance.
The biggest project was building and installing a C31XR that N6WIN donated to the station. It took many long hours but we finally had it up and running Friday morning. One of our team mates, Scott K7ZO, was unable to make it at the last minute. Fortunately he was still a valuable asset to the team and without his input we wouldn't have been able to get everything done. Hopefully he will be able to join us next year.
Conditions were great leading up to the contest. Some of that carried over to the contest, but 10m was mostly dead other than a short opening on Saturday. On Sunday, 15m was a real struggle until the afternoon when it finally opened all the way.
We hope to be able to come back again next year as everyone really seemed to enjoy themselves.
Thanks to everybody for the QSO's.
73,
Dan N6MJ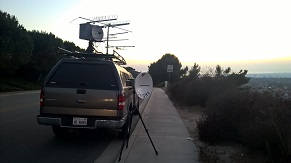 I reported some of this in the May issue but missed some pieces of the puzzle, so I'll restate it all again this month and try not to leave out any gaps. Congratulations to Wayne, N6NB who won the Classic Rover category in the ARRL January VHF Contest! Wayne visited 10 grids and operated on 11 bands. The ARRL writeup notes that he used FT8, which is unusual for a rover (yes, he used other modes as well). Also, congrats to John, K6MI who took the win in the Unlimited Rover category! John did 11 bands from 10 grids. Meanwhile, Bruce, KG6IYN set a new Single OP FM record in the Southwestern Divistion with a score of 8,172 by making 156 contacts on all four contest bands. Greg, W6IT set a new Single Op Low Power record in the Division with 31,196 points on all bands from 50 MHz to 10 GHz! And ahem, the SCCC took the Medium Club category this time around despite only five entrants! Our 563,408 score bested PVRC's 406,783. Great job! (We need to get more of you to use that 6 meter position on your band switch! And maybe some other bands...) The full contest write up can be found
here
.
The ARRL Contest Branch has announced that FT8 will be permitted in the 2019 ARRL RTTY Roundup. The next edition of this contest is in January. "Even though digital modes other than RTTY have been permitted in the RTTY Roundup for 30 years, FT8 was excluded in 2018, because it could not manage the required exchanges," ARRL Contest Branch Manager Bart Jahnke, W9JJ, said. "Through the work of the WSJT-X development team, the latest version of FT8 can handle the necessary exchanges that earlier versions were unable to do." WSJT-X version 2.0 or later is required. Note that if you are currently running an earlier version, newer versions can be installed in their own folder and run separately without conflict of your older version. Just don't try to run them both at the same time. Full article is here on the
web site
. Be sure to pay attention to the DG versus RY mode designation in Cabrillo logs in the article.
From the SCDXC newsletter (October, 2018), Joe, K5KT was awarded lifetime membership into the South East LA Amateur Radio Club. That's LA as in Louisiana. The club is located near Joe's hometown of Hammond, LA. As we know, Joe has been an active contester from SoCal for many years.
The Visalia DX Convention attracts many of the top contesters and DXers from around the world, including many SCCCers.
2018 was no exception.
The full array of photos can be found here.
Photos courtesy N6TV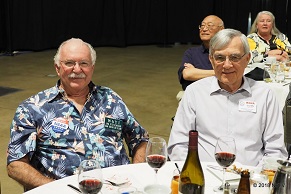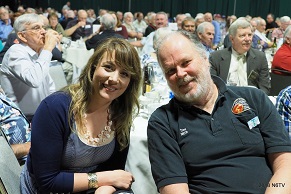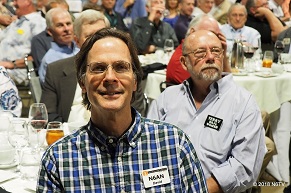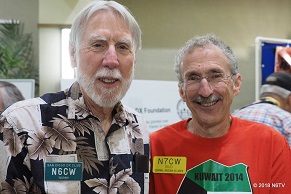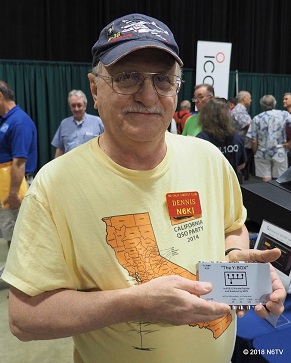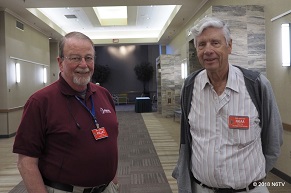 Strange but true...
Ever wonder why blue jeans are blue? When they were first designed by Levi Strauss, the people most likely to wear them were those who did a great deal of manual labor. Strauss rightly assumed the work was likely to be dirty, so he dyed his new trousers indigo to help hide stains.
73 for now,
--Dennis NE6I
less