S56X is a single OP location, located in the NE part of Slovenia near the Austrian border, in a small village named Gerlinci. The location occupies approximately 5 acres and is in close proximity of my family home. No industrial plants are present in the neighborhood, so the location is relatively quiet.
My first amateur radio license (call sign YU3OI) dates from the time of former Yugoslavia. After the Slovenian declaration of independence I started with a homemade 4 EL 3 band Cubical Quad antenna, operating at the upper three shortwave bands, with a former call sign S51OI.
A short time after, a Wilkinson driven 80m 4 Square array, mounted on 4 grounded lattice towers was erected. Better results were achieved on upper bands, mainly because the site is located in a moderate depression.
In 2001 a new 40m high free-standing tower was erected to enable the installation of low band horizontally polarized antennas. Encouraged with the former 20 m Cubical Quad's performance, a 40 m Dual Driven Dual Mode Diamond Quad project was started immediately after.
The first photo of this antenna, which is still in use, is dated on May 18th, 2001. In the beginning only an Out of Phase Mode was supported whilst a second mode, the so called "Near In Phase Mode" was added later to adapt the antenna to rapidly changing propagation conditions.
Although the second mode resulted in considerable operational benefits, an additional system of two orthogonally spaced and phase driven dipoles for the 40m band was later added specifically for high take-off angles.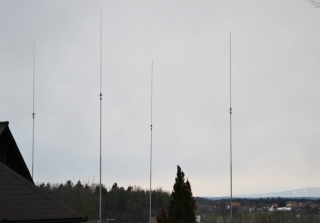 In 2005, I changed my call sign to S56X. During this time it became apparent, that the old 80m 4 Square ground system had started falling apart. A new 4 Square ground system, arranged for dual band use (80 and 40m, to save space and money) was built in it's place and a new dual band free-standing 4 Square antenna array was added, initially for the 40m band (λ/4 spacing). A switch-box function was later implemented to adapt 4 Square array operation for the 80m band (λ/8 spacing) as well.
Recently, a 40m horizontal loop has been installed on the lift tower.
In the early beginnings, a second-hand shortwave transceiver FT101E and a homemade KO-1.5 linear amplifier (S51ZX design) were used for transmission. In 2001 an Elecraft K2 QRP kit was ordered, assembled and upgraded with a 180W PA module with the assistance of S51ZX.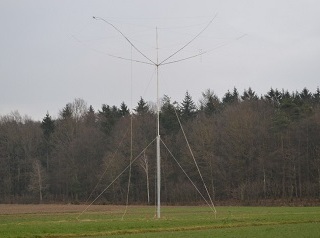 This K2 has endured it's first long-term test (my 2002 Mauritius holiday trip - 3B8/S51OI) without issues. A few modifications and improvements were made during it's last operational decade, but this small transceiver has fulfilled nearly all of my expectations.
In 2012 an assembled and virtually unused second-hand K2 with an autotuner was purchased from OM Mike Lee (AA6ML – former WB6RTH - Florida).
This station was rearranged, it's minor faults rectified and successfully put into operation as a second contest transceiver. Both K2 stations are connected to a modified EZ Master controller and running on Writelog contest software.
My activity is focused mainly on low frequency (80 and 40m) HF bands. As much as time permits, I participate in allmost all CQWW, CQWPX and ARRL contests, where good EU and World rankings have been achieved in the HF category.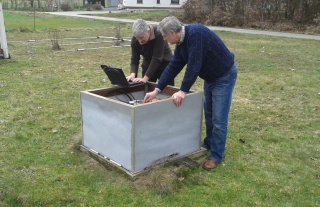 Some of these results, specially these listed below, are considered as my personal success:
WORLD - 1st PLACE HP SSB S/OP/A- 40m 2006 - CQWPX
WORLD - 1st PLACE HP CW S/OP/A-40m 2008 - CQWPX
WORLD - 1st PLACE HP CW S/OP/A-80m 2009 – CQWPX
EUROPE - 1st PLACE HP SSB S/OP/A- 40m 2012 – CQWPX
EUROPE - 1st, WORLD- 2nd PLACE HP SSB S/OP/A - 40m 2012 - CQWW
Many thanks also to my friend S51ZX, whose innovative ideas helped my antenna systems to be competitive with those of the global elite.
73 Dušan Gomboc S56X More pictures:
1
2
close