How did I become a ham radio operator? Between the 50's and 60's, my mother started with this hobby, without knowing what it was. My parents had a farm, where they lived and the only way to communicate was with an old homebrew radio for 160m. The farm was 30 km. away from the city of Melo, and the road in those years was a dirt track. In the middle it had a wood ridge; when it rained it got covered by the water, so you can understand how useful the radio was.
My mother knew some ham's in Uruguay and later they introduced her to "real" ham radio with good equipment that covered all HF bands.
I was born in June 1968. In 1985 I got a license to operate as a second operator of my mother Sonnia, CX4VA. I spent most of my time on 40 talking with CX, LU and PY and occasionally with other South American hams. I got some friends, but I needed more. I didn't like very much long chats; I liked to contact DX stations and receive their QSL cards along with stamps, photos etc.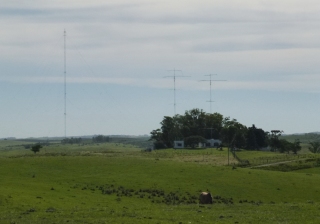 I spent many hours of the night on 40m DXing but I had to get up early to go to school so my mother came to my room where the radio was, switched it off, and sent me to sleep.
Sometimes I heard rare ones on 40, but I couldn't work them with my dipole and 100 watts. What could I do to improve my DX activity and also make sure my mother didn't hear me yelling to DX stations? I had to learn morse code!
In April 1987 I got my own license, CX6BM and I wanted to get the DXCC as soon as possible.
In 1993 I got my new and actual callsign CX6VM and also a new antenna, a 3 elements tribander. The 1993 CQWWCW contest was close, and I was very enthusiastic with my new antenna, so I tried to develop a serious activity on it.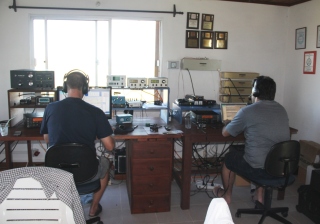 I've been studying in Montevideo for six years. Montevideo is the Capital city of Uruguay but all my family lives in Melo City, that is 400 km. from Montevideo, and 60 km. from the Brazilian border. So I'm not very active, only for contests. I get on a 5 hour bus trip to arrive one hour before the contest starts and three hours after it finishes (Monday 0300 UTC) I return to Montevideo, to get ready for college and work.
In October 1997 I was invited to operate CQWW SSB in Paraguay at ZP0R, were I met Tom ZP5AZL and Dale N3BNA, we became great friends. After that we traveled together to do contests in different places, like TI5N, 9Y4W, PJ4K.
In 2007 I moved to my family city, Melo, in the NE part of Uruguay. I raised a tower in my mothers farm and since then the station continues to grow. Actually I have 3 towers and monobanders, and we enter in the most important contests.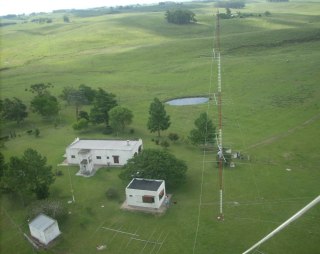 In 2008 I started using the special contest callsign CW5W. I think it has become well known and has given the multiplier CX to many contesters, with high demand especially on the low bands.
We usually meet with other CX friends as well as LU and PY to do Multi Operator entries in the most important contests from CW5W, where we spend a great time doing what we like! This is the best of our hobby!
Actually CW5W is ready for SOSB, SOAB, SO2R, MS and M2, with two operating positions using Elecraft K3 radios, amplifiers and Yagi monobanders for 10 to 40m and wire antennas for 80 and 160m.
I got married to a wonderful girl, Carolina. We have one 4 year old son called Francisco and another one, Gonzalo that is 1 year old. Carolina's support is wonderful, she understands very well our passion of ham radio, and she likes very much to receive people at the station.
More pictures:
1
Best wishes for all and hope to see you in future contests. 73, Jorge CX6VM/CW5W
close