Welcome aboard to new member Phil, KF6MXK! Phil hails from Tehachapi where he retired in 2010 after 43 years as an electrician. His QTH has one acre now. His working life was with street cars, buses and cable cars in San Francisco. What a romantic job, eh?
The California QSO Party (CQP) is THIS weekend, October 3-4! This is the country's largest QSO Party and WE are the target of everyone that lives outside the golden state! Many of you go all out in this one every year, and I hope everyone else will get on and have some fun being the hunted! Let's all spend some time working this one and of course submit our scores for SCCC! Full rules can be found on the
. Note the change for multi-ops!
Hip, hip, hooray! According to an announcement made 23 Sept by
NASA and NOAA
, Solar Cylce 25 has begun! Their announcement stated that the Cycle 24 solar minimum occurred in December. Our sun is so variable that it can take months after the fact to accurately confirm the minimum. The announcement that we are now heading into Cycle 25 is fantastic news, long awaited by contesters and DXers alike. As you probably know, the rise in sunspot numbers occurs much more rapidly toward the peak than it does during the decline toward the minimum. This means that improved conditions are not long off! What remains to be seen is whether the peak will again be ho-hum as it was in Cycle 24, or, will it be one of the best ever as predicted by some scientists. It goes without saying that we will be hoping for the latter! Get those antennas ready!
There are two new rule changes to the CQWW DX contests. The first is that paper logs and email logs are no longer. All submissions shall be done via the web submitter. Most other major DX contests have gone this route as well. The second change is under the Unportsmanlike Conduct section. Running stations are prohibited from more than three consecutive contacts without sending their callsign.
The final 2020 CQ WPX SSB results have been published. CQ reported a record 7,597 logs were received, smashing the previous high by 38%. Clearly, the COVID pandemic had more people at home and on the radio during the contest weekend! Marko, N5ZO used the NT6Q call sign and placed 4th in the USA Single Op, All Band, Low Power. Bill, W8QZA operated W6QU to the top spot USA in the Single Op All Band QRP category. Full results and more can be found
here
.
Preliminary results of the August NAQP CW contest have been published. Axel, KI6RRN, running the NO6T call, is atop the standings! Nice going, Axel! View the standings
here
.
Preliminary results
of the September NA Sprint have just been published. Dan, N6MJ had the highest score with 12 band changes or less (low number of band changes suggests the operator wasn't operating SO2R) at 14,364, and appears to have finished 5th overall. Marko, N5ZO had the Top Golden Log (no errors) at 312 QSOs! Outstanding! SCCC #1 turned in a 4th place team finish.
The
raw scores
for the WW Digi DX Contest have been published. Sitting atop the Single Op Low Power All Band standings is Levi, K6JO! Hopefully, that score will hold up through log checking!
The
preliminary results
of the August NAQP CW contest have also been published. Axel, KI6RRN piloted NO6T (WA6TQT station) to a narrow victory if the scores hold. Second place finisher K0RF had 23 more Q's but 6 less multipliers.
Have you ever wondered what the SFI, A index and K index are and why they are so important to RF propagation in the HF bands? Generally, the higher the SFI, the better! The lower the A and K indices are, the better. However, the three interact to influence propagation. And there are several factors that influence them. The article
Understanding Solar Indices"
written by Ian Poole, G3YWX appeared in the September, 2002 issue of QST and is a good primer on the subject.
The new Elecraft K4 HF transceiver was announced at the 2019 Dayton Hamvention. Unfortunately, there have been some delays in shipping. The web site says September but rumors around the bands say shipments are now delayed until December. You can have a look at the K4's manual
here
. The new rig is expected to be very popular with contesters.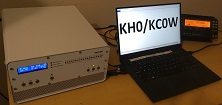 Tom, KC0W has been around. A search of his call or a visit to his QRZ page will tell the story. Tom obviously enjoys traveling to many off the beaten path DX locales and putting the deserving in the log. He also operates from those locations in contests when things sync up. Not necessarily as a serious contest competitor but he uses the contests to put even more folks in the log. He was copied, for example in the late September CQWW DX RTTY contest. Tom moved somewhat recently to Saipan, Marianas Island and that's where he was for the RTTY contest. Now, on the west coast, Marianas isn't super rare as a DXCC entity, but who wouldn't want to snag him for a mult in a contest? His preferred mode of operation is CW but he has dabbled in FT8 and RTTY at times. Thanks, Tom! Hope to work you in the contests!
As noted a couple of issues ago, Jim, N6TJ and Dick, N6AA are working on a physical, onsite Visalia gathering that by the way, is not part of the virtual Visalia International DX & Contesting Convention. The latter will be virtual only due to the ongoing COVID pandemic. The former will observe social distancing and other safe protocols and is offered by Jim and Dick as an in-person event. A
web site
has been created and a link to it appears on the right hand side of our SCCC web page. The event is not sponsored by SCCC but is of interest in light of the fact that two of our long time members are organizing it. Special rates and possibly a group dinner are being made available. Their web site offers links to the hotel reservation as well as a non-binding event registration page. There is no cost to register but registering does help the organizers gauge interest and plan for the possible dinner event.
Lastly, I call out to all of you SCCC members to send me updates on things you are doing...new rig, new antenna, new accessory, refurbishing something, new-to-you contest that you recently entered and enjoyed, or maybe it's planning one of these things in coming months. Maybe you would like to tell the story of how you became a ham. Or a contester. What you did differently in last June's Field Day. Or a story from one of your participations in a multi-op or ContestExpedition. Send me a blurb about something so we can share it in this space or on the Club web site. We all enjoy reading about these things. Share something, or I may have to shame you into it! (TNX in advance!)
Strange but true...
It is illegal to drink beer out of a bucket while you are sitting on a curb in St. Louis. Good to know!
73 for now,
--Dennis NE6I
less