Larry, N6NC tells us about the SCCC effort at 6E2T in Ensenada, Mexico in the 1995 ARRL DX CW contest. The operation took #1 World in the M/2 catgory.
After a SCCC meeting in LA ~JAN 1994, Ken K6LA, Marv K2VIV and I decided to try an operation from MX for the 1994 ARRL DX CW. We rented two side-by-side condos at the then-new Grand Baja Resort complex only yards south of the Puerto Nuevo lobster restaurants.
The landscaping wasn't even finished and there was exposed clay all around the project. Unfortunately we had heavy rains (and snow!) starting on Friday. Ken brought his rig and amp and did all of the operating. Marv and I set up the antennas, I think an A3 tribander on a mast in the courtyard, and a Butternut 160m-40m vertical with 32 wire radials which we set up on the coast road side of the condos. We had coax cables running outside in various places, and if onlookers asked whether we were from CNN, we nodded.
The rains grew heavier, and Marv and I were soaked to the skin when unwinding and installing the vertical and placing the 32 radials in the brown MX clay-mud. The vertical required several tuning adjustments throughout the evening, and we got to the point of just stripping off our wet clothes and leaving them in a pile at the condo door ready to put them back on for the next adjustment. At one point the clay mud was so sticky and thick it was like walking around in platform shoes with 6 inches of mud caked on each sneaker.
Ken was a great operator even back then, and ran contacts like crazy. At one point FRI evening with the heavy, salty rain, the ceramic mushroom capacitors on the vertical literally exploded like hand grenades leaving a circle of ceramic shards all around the antenna in the clay mud. Later that night Ken's amp tripped out, having overloaded the condo's circuitry, so we stealthily found and rewired the amp power cord to the next door condo's mains. Then when Ken was out doing some work with one of the antennas he got a painful cactus thorn in his keying thumb, and the project office called the house doctor who came to treat and wrap the injury, so Ken did most of the contest with his keying thumb wrapped in a bandage.
SAT night Marv and I went up to the Rosarito Beach Hotel for dinner while Ken pressed on operating. We were amazed that it had snowed in Rosarito, with 6 inches of snow/frozen sleet on the roads in Rosarito Beach, traffic snarled, and dogs running wild back and forth across the streets like they were mad. Afterward, we called it "The night the dogs went crazy when it snowed in Rosarito." On Sunday Dennis N6KI visited to see what we were doing, and began to warm to the idea of operating from MX. (Dennis and I are Vietnam combat veterans, so these MX operations were a bit of a nostalgic adventure for us.)
I forget how we did in that 1994 ARRL DX CW, but we were beaten by Doug (N6RT) operating at Everett's Rancho Sordo Mundo (School for the Deaf) just north of Ensenada, who had many more 10m contacts than we did. None of the DX stations had done many 160m contacts.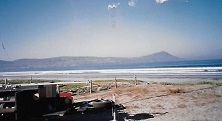 1995 ARRL DX CW
The '94 operation convinced us that we could operate a DX contest from Mexico. The results showed us where we needed more band activity to be successful from Mexico. We discussed a potential 1995 operation amongst some members of SCCC, and Harvey K6QK(SK) and I drove the White Whale (my '89 Ford station wagon) to survey radio sites in Baja that might be more suitable than the Grand Baja Resort.
Harv and I traveled one weekend in northern Baja from San Diego east on Mexico Route 2 to Tecate and the Eagles Nest area, then down through the Guadalupe Valley to Ensenada, and south to the Pta Banda/Pta Estero area. We avoided Rosarito from having already operated there. We surveyed numerous sites on the way, and the best was the sandspit which created the south jaw of the Estero River lagoon south of Ensenada, on the road to the Punta Banda "Blowhole." This site seemed most promising, because we were copying 2 1/2 HF bands at high noon. At each site we used a mast with a single element HF aluminum dipole which we mounted on Harv's base placed under one wheel of the station wagon, with a Kenwood xcvr in the wagon. And we discovered there were several beach houses for rent on the sandspit that separated the Pacific Ocean from the Estero River lagoon.
After we returned, I discussed with Dave K6LL our site survey and the '94 results from the Baja stations, and we decided to try an M/2 Contest DXpedition to Ensenada in FEBR 1995. This required a lot more complex station equipment with three simultaneous CW stations, requiring more antennas, switching, bandpass filters, filter stubs, computers, and generator power for two amplifiers. We actually added a 3d MULT-hunting station to interleave between the two RUN stations, but it was not used much.
I insisted that we do MX licensing properly, unlike some of the other successful gringo MX contest efforts. We made visits to the Tijuana SCT office and met Oscar Rivera, the first lawyer in the MX SCT (their FCC), and the long-time honcho of the Tijuana SCT office. Oscar was very accommodating, assisted us and made sure we were aware of all the specific contest licensing requirements: 51% MX operators shown on the license application; MX /XE2 individual reciprocal licenses; individual tourist visas; special detailed contest permit requirements-- we could only gain a Class II MX license [500w] because our MX sponsors were not senior enough; special contest callsign requirements; understanding MX law re permit issuance; MX Federal pre-emption law re SCT permits trumping environmental regulations-- the tip of the Punta Estero southern jaw was an MX National Bird Sanctuary, and the house we rented was close to it.
We accomplished all this required legal detail for K6LA, K6LL, N6HC, N6NC, N6KI and KM6SN well in advance of the 1995 ARRL DX CW, and N6KI arranged the rental of a beach house near the narrow tip of the sandspit where there was effectively a salt water ground plane below because of the Pacific Ocean on one side and the brackish Estero River lagoon on the other side. The bonus was the empty lot at the north side of the beach house which we used to set up our antennas and towers.
There were more complicated equipment requirements for M/2-- filters, amps, towers, antennas and generators for three stations. Dennis N6KI had run the technical side of the Palomar Club's Field Day events, sometimes running up to 27 transmitters, so he undertook responsibility for all the technical aspects of our contest DXpedition set-up. We borrowed Harv K6QK's 40ft tower trailer, and I outfitted the White Whale station wagon for towing with a hitch and heavy duty adjustable "air bag" shock absorbers for the rear. We purchased two 2000w quiet Honda generators to run the amps, two Dunestar bandpass filters, two 49ft military push-up section towers from the fellow at Visalia who used to sell surplus gear around the pool there. We bought two used AL-80 500w 3-500Z amps (per CLASS II MX license), desktop computers, monitors and UPCs for the CT logging software. We built filter stubs for the bands, and we had tested every piece of equipment in San Diego before heading off to Ensenada for the 1995 ARRL DX CW on the THURS before the contest.
On the trip down, we discovered at the border that we needed a special US Customs form to bring all this gear into MX and then bring it out without paying duty, which required an inventory of every piece of gear including model and serial number, so that took some time. We arrived at the beach house in partly cloudy but clearing weather, and began setting up-- some members assigned to shack setup, wiring and testing, others to tower and antenna setup.
In the adjacent empty lot covered with sand dunes and scrub, we set up Harv's 40ft crank-up tower trailer with his TET tribander and the two 49ft mil towers section by section. One held Ken's A3 tribander, the other held Harv's 80/40m fan dipole (hung as an inverted V) and the far end of the 160m inverted L. (We had no DX cluster back then.)
For 160m, Red W6AE had told me vociferously after a couple of beers at Visalia-- "132 feet! That's all you need, a 132ft wire for 160m." So to create a 160m inverted L we ran a short length of coax out the window from the shack to an old Unique Single Wire tuner I had picked up at a swap meet, with a 4ft ground rod planted right next to it, ran the antenna wire vertically 14ft to the roof eave, then at a long, flat angle to the top of one 49ft tower, and laid a 132ft radial on the ground under the horizontal portion of the L.
For 80m and 40m we used Harv's fan dipole, and added stubs to the ends to resonate in the CW portions of the bands. The two tri-banders served one each station for 20-15-10m.
We tested everything and had it all working by mid-day FRI. We organized into three watch sections of two ops each for 4 hour watches. Dave K6LL and Ken K6LA opened and had combined CW rates of over 600 Qs/hr. Arnie N6HC and I had the 2d watch and had combined rates of over 300 Qs/hr. I had the 160m station when that band opened on FRI night and to this day I have never heard pile-ups as heavy as we encountered on 160m with Red's "132ft" inverted L. Dennis N6KI and Rod KM6SN did equally well in their 3d watch from midnight. We had brass MULT bells for each station and they were great for morale, even at 3am when two teams were trying to sleep.
Our only serious interruptions were from the president of the Punta Estero HO Ass'n (can you believe it?) and the Chief of the local Federales, who demanded to see our permits, and was astonished everything was in order, and that we had prepared full copies for them to keep for their files. We banged CW all night both nights, all day on SAT, and on SUN till close of the contest, when exhausted, we just turned everything off and went to dinner at a small fish restaurant we found open on the winding road to the Punta Banda Blowhole.
On MON we spent the day taking everything down, and suddenly noticed how beautiful the site was with panoramic views of Ensenada Bay, Todos Santos Island and the hills north of Ensenada. We had been too focused on the mission to notice and appreciate that until the end of the operation.
We knew we had done a creditable effort, and most importantly, everything worked great due to our planning and testing. About mid-week after, Dave K6LL emailed me and reported we had done very well amongst the DX M/2 stations who reported on 3830 or internet, and in fact, might have won WORLD 1st Place DX M/2 category with our 5200+ Qs, which turned out to be the case. Reviewing the line scores, we were neck and neck with the other DX M/2 stations on 80m through 20m, but we killed them on 160m and 10m to give us the victory (thanks Red W6AE!). (And I'll always remember than David N6AN, operating from his apartment house in MX City did ~5000Qs single op in that same contest!)
Anyway, folks, that's the saga of the SCCC contest station that won the WORLD 1st Place, DX M/2 from Ensenada MX in the 1995 ARRL DX CW Contest.
73, Larry N6NC
less