The story of the WX3B Multi/Operator Multi/Transmitter station got started back in the late 1990's when I first visited the multi-operator station of Dave Baugher, WR3L. Dave showed me two simultaneous transmitters being utilized in a radio contest, and I was fascinated by this concept.
My next visit was to the Multi/Operator Multi/Transmitter station host of Robert (Bob) Morris, W4MYA in beautiful Goochland, VA. Bob had 12 transmitters with 12 amplifiers, stacked arrays of high band antennas, quad loops and beverage receive antennas. After participating in Bob's Multi/Multi events and learning the trade, I was totally hooked
My first Multi-operator station at WX3B consisted of a tribander, two quads and a bunch of dipoles. I eventually grew to six (6) high power stations on a rented half acre property.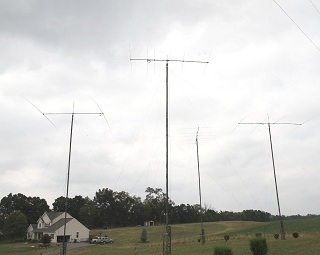 My geographic location is close to Frank Donovan, W3LPL, who spent countless hours teaching, coaching and motivating me to become a better contester and build up my own station. I joined team W3LPL and experienced M/M contesting at the TOP of the pack and vowed one day, given enough money and land, I would love to build that type of station. Well…I do have a LONG way to go!
I defined an achievable goal of coming close to simulating the feel of a BIG Multi-operator station, with a small fraction of the investment of land, financial resources and tower work. In 2004 I relocated to my current QTH in Taneytown, MD and increased my lot to just over an acre in size. At the time, that seemed like a lot of space…however in retrospect, 20 acres would have been nicer!
Since I do not climb towers, I quickly settled on the AB/577 military mast as my"tower" of choice. This is an inexpensive and easy way to get yagis for 10 – 40 meters up 50+ feet! I chose monoband antennas to maximize performance and minimize degradation due to unfriendly antenna elements.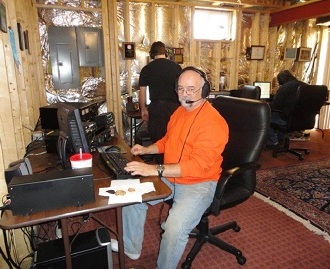 Soon I had a two element shortened 40 meter yagi and, eventually, a two element vertical array for 80, along with (4) receive beverage directions. I standardized on Yaesu's FT-1000MP as a transceiver and use mostly manually tuned Ameritron AL-1200 amplifiers at each operating position, along with Heil HC4 headsets, KD9SV reversible 300' beverages and K9AY's beverage switching/sharing box to permit simultaneous use of 4 directions on 80 & 160. I have a 6 position computer network running N1MM (and Win-Test) for logging.
My station is used for single-op, multi/single, multi/two and Multi/Multi contest entries. The most noteworthy finishes have been in the WPX SSB contest where WX3B has won the Multi/Multi category twice and been in the top three finishers several times.
WX3B is well known as a great place to have fun, learn and experience the thrill and team sport of competitive radio contesting. It has also been a viable training ground for operators that will eventually join the N3HBX and W3LPL "super-station" Multi-operator teams.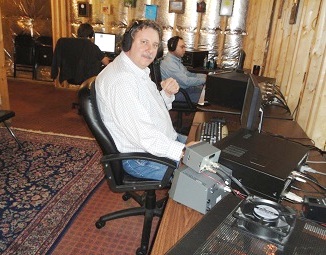 It takes a vast amount of knowledge and information to build and operate a multi-transmitter contest station. Here is a list of the close friends, mentors, station builders and resources I have been fortunate enough to have access to over the years:
WX3B station building team: N3SB AK3Z NY3A W3ARS N3VOP K1RH K3RCH W3ADC W3ADX W3RAR K3LP N3KS W3DF N3OC N3ST
WX3B Teaching and Encouragement Team: K4VV WR3L W4MYA W3LPL K4JA K3LR KC1XX W8JI K4ZA KC3VO N3HBX K1TTT W2VJN
WX3B operators: K3WI N8IVN NH7C WA3AER K3AJ N3YIM N3VOP KU1T N3WZR N3FX KB3CS N3AFT N3TD N3ST W3ARS W3ADC W3ADX K1RH K3RCH N3SB N3KS
More pictures:
1
2
3
4
5
6
close