The club station now known as HB9CA was founded by 12 DX enthusiasts as the Letzi DX Group back in 1977 when the group found a very nice QTH in the north-western part of Switzerland. It wasn't only a suitable QTH but there was an old barn that could be rented as well.
The 12 founding members spent many hours building a cozy shack inside the barn and, more important, setting up an impressive (at least for Switzerland) 22m high concrete tower that was formerly used for a high-voltage power line (the mast came free but getting it to our location didn't).
Right from the very beginning, there were monoband beams for the 10, 15, 20 and 40 meter bands. The setup was completed with the addition of wire antennas for the lower bands.
Over the years, some of the antennas were replaced, not all of them survived all the winter storms also the antenna farm was expanded when the WARC bands opened up for us.
While DXCC – and the Honor Roll – was the initial focus of many member, some of us got serious about the DXCC Challenge program so decent antennas for all 10 bands including 6 meters were a must. Currently four of our members can be found on the DXCC Honor Roll and three members are listed in the DXCC Challenge program with more than 2'000 points. Some of the members had a serious interest in VHF also, so that's hosted now too.
Contesting was not the prime focus for many years, but there had always been some activity. In more recent years, a smaller group got more serious about contesting and started to optimize the station for that. With a number of reguar guest operators we found that the Multi/2 category gave us the most fun and the contest group needed a name too. With the HB9CA club call (going back to founding member Pierre, who held that call for many years) "Contest Aficionados" came to mind at some point and stuck.
While it was relatively easy to install a 2nd transceiver and the necessary filters, there were some limitations on the antenna side.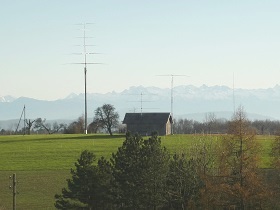 We now have a second, smaller tower with a two element SteppIR beam. For the larger contests like CQ WW CW (which is our favourite event besides the only slightly smaller Helvetia Contest) we add a few more antennas like verticals for 40m and 10/15/20m and additional dipoles for and 80 and 160 meter.
Not just for contests but mainly for DXing, we erect an 80m vertical and 8 beverage antennas during the winter months when the local farmers allow us to do so.
So you hear us frequently in many of the contests. Either under our club call or the individual member's calls. We certainly appreciate working you in the contest. If you hear an HB9 station, please call in and give us or some of our friends that QSO!
More pictures:
1
2
3
close