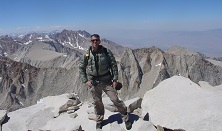 Welcome aboard to new member Jim, WI6X. Jim wrote up a nice intro in his membership application. I've copied it here.
Hi, I'm Jim Dahl, WI6X, and I enjoy contesting and QSO parties because the contest calendar is full of opportunities to get on the air for an hour or two at a time to practice my operating skills, evaluate my station building endeavors, and learn about propagation.
Things that get in the way of radio time are work, kids (Wisconsin/Ohio State/Woodbridge HS), & my XYL. Other interests are sailing, hunting, fishing, hiking, traveling, reading.
Working on my code speed is important to me. Practicing with CWops, giving back, K1USN SST, and Morse Runner are vey helpful.
I appreciate amateur radio's contest community for sharing ways to make what I have available as effective & useful as possible. As a towerless little gun, I rely on multi-element wire beams, extended double zepps, large loops, reversible phased arrays, inverted-Ls, a vertical, and a rotatable dipole (but not all at the same time or same QTH). Thankfully my Irvine QTH has trees, the XYL doesn't crane her neck up, I am on my HOA board, and my second station at Lake Arrowhead has 100-foot pine trees.
I love that our hobby has an enjoyable and endless learning curve supported by arguably the best community of Elmers of any hobby or profession. Most all of what I have learned about amateur radio has been from the Elmers who write books & magazines like The ARRL Antenna Book, K9YC's Choke Cookbook, ON4UN's Low-Band DXing, N0AX's Grounding and Bonding, CQ, QST, QEX, NCJ, WA7BNM's Contest Calendar & Score Rumors, as well as contribute to e-mail reflectors like Topband, TowerTalk, EZNEC, SimSmith, Elecraft, socal-hamnet-users, N1MM+, as well as the Elmers who volunteer to help with programs such as CWops and Contest University, and of course all the YouTubers.
Hams are great people. I am the Treasurer of South Orange Amateur Radio Assn. (SOARA), member of Irvine Disaster Emergency Communications (IDEC), and Orange County Amateur Radio Club (W6ZE).
Just a newbie with wires playing radio when chores and family do not get in the way.
more
----------
Beginning sometime in mid-2021, the FCC will require an email address on applications for an amateur radio license. It appears that this will include license renewals. The FCC may dismiss applications that do not include an email address. In addition, "Revocation of the station license or suspension of the operator license may result when correspondence from the FCC is returned as undeliverable because the grantee failed to provide the correct email address." More information can be found
here
.
In December, Marko reported on his M/M operation with Oliver, W6NV at 8Q7ZO in CQWW CW. Their Maldvies effort was another new Zone (Zone 22) for Marko, his 31st of 40 that he has contested from. Marko has these nine left: 10, 13, 14, 20, 26, 27, 28, 29 and 30. Jim, N6TJ reminded us that Dick, N6AA and Phil, N6ZZ (SK) completed their 40 Zones a number of years ago. No small feat! Jim, K6ZH was there when Dick and Phil did it in 2002 at TK4Z in Corsica in Zone 15. I thought that was pretty interesting. One would think that one of the African or Middle East Zones might be the last, not a European one! Do we have any other SCCCers with 30 or more Zones of contesting to their credit?
CQ Magazine has published the
raw scores
of the CQWW DX CW contest held at the end of November. Dan, N6MJ operating ZF1A shows as 2nd place Single Op High Power All Bands. And the two man team of Marko, N5ZO and Oliver, W6NV (as 8Q7ZO) appear 7th in the Multi-Multi category.
As a reminder, we have a page on the SCCC web site for your personal web site. Many of our members have already shared theirs there. We also have an Awards page for photos of your contest awards. Plaques and certificates welcome! And wait! There's more! We also have a page for station photos! Send yours and/or photos of your antennas! Click on the webmaster link at the bottom of any SCCC page and send your info and photos! Don't be shy!
Scott Davis, N3FJP authors some popular general and contest logging software. In one of his recent newsletters, he wrote about contesting and why we do it. I thought I'd share his writing on the suject:

The reasons for the tremendous fun of contesting aren't always evident and they are too important to miss, especially for new folks just entering the hobby. What draws us to spend major contest weekends happily glued to our radios?

Following CQ World Wide CW 2020, one of our club's excellent, experienced contesters, having just made over 1,000 Qs, wrote on our virtual clubhouse text chat group, tongue in cheek: This contesting is nuts! Why do we do it?

Spent from the weekend, I couldn't help but laugh out loud, but the question stayed with me. This contesting IS nuts. It's hard work, takes education, effort, dedication, commitment, experimentation, knowledge, ingenuity, planning and serious time in the chair. Why DO we do it?

It turns out that, at least for me, there are lots of great reasons! Here are a few off the top of my head. I'll bet that you can add to this list...

- It is thrilling to to communicate to every state, section and the 4 corners of the Earth with nothing but a piece of metal or wire in our yards, from the comfort of our homes and families.

- It is joyful to share a quick connection, however brief, with all the other stations that have become familiar on contest weekends.

- It is thrilling to watch the bands rise and fall like the tide over the course of the contest weekend, anticipating what may open next.

- It is thrilling to watch our individual and club's collective QSO rates soar when the bands come alive, on our club's real time leader board.

- It is thrilling to simultaneously, whole heartedly cheer our NEMARCS brothers and sisters on, while doing our very best to leave them in the dust!

- It is thrilling to recognize the very real accomplishments of our scores, individually and collectively, with our club total team effort. We know full well what goes into building a successful station and putting in a successful contest effort!

- It is joyful to exchange quick banter on our virtual clubhouse text chat group during propagation lulls, as well as share needed multipliers, mentor new folks and encourage everyone to do their best.

- It is thrilling to see our club rankings in print and moving up the list when the final results are released!

- It is thrilling to watch our club's scoreboard participant numbers grow, seeing new guys jump in for the first times, knowing the fun that awaits them!

- It is thrilling to get that certificate in the mail, after you have placed well enough to earn one!

- It is fascinating to learn the strengths and weaknesses of our stations, that are so quickly revealed on contest weekends.

- It is thrilling, after the contest is over, to improve our stations, our antennas and our operating skills, to see what we can do better next time. In fact, the grand contest never ends. We are always looking for that edge and helping each other find theirs!

- It is thrilling to befriend such a fine group of folks, with whom to share this amazing adventure!

This is really, really fun stuff!



----------



Last month I mentioned that the ARRL Incoming QSL Bureau was reporting that incoming cards had slowed tremendously in 2020 due to the COVID pandemic but shipments to segment sorters would go out in December. They did and they were received by the sorters around December 8. Mailings to us from many of the sorters came out shortly thereafter but keep in mind that some sorters may take additional time to make mailings. At least one sorter has some very high risk people in the household and is quarantining anything and everything that comes in. That segment may be delayed more than usual. The ARRL Sixth District Incoming QSL Bureau web site can be found here. If the number in your call sign is something other than 6, go here to find your incoming QSL Bureau and get updates.

As we all well know by know, DXpeditions and ContestExpeditions have come to a near standstill during the COVID-19 pandemic. And rightfully so. We have a link to ContestExpeditions (a site run by NG3K) on the right hand side of our web site. Checking it out recently shows just how few expeditions are planned. Everyone is in lockdown mode and not traveling, reducing risk and exposure. As we know, the long awaited vaccine is now being administered and rolled out. We are now crossing our fingers for a better 2021, certainly by the time summer hits. Stay safe, everyone!

Strange but true...
It takes 5,000 cows to make a year's worth of Cheetos seasoning. It requires 10 million pounds (4.536 metric tons) of cheddar, which takes 11 million gallons of milk from 5,000 cows, averaging out to 2,200 gallons of milk per cow!

73 for now,
--Dennis NE6I

less