Jim, N6TJ fresh off trips to KH6LC for ARRL DX SSB and KH7M for WPX SSB tells us he will be back at KH7M for WPX CW in May and CQWW SSB in October. He will be at 9Y4W for CQWW CW. A buy contesting year for Jim!
Word came in from Dick, N6AA via the SCCC Reflector on March 10 that this month's International DX Convention in Visalia has been cancelled. The decision reflects the Committee's concern for the health and well being of propestive attendees in light of the COVID-19 Coronavirus outbreak that has been spreading across the globe in recent weeks. ARRL posted
Bruce, WA7BNM reports that the NCCC, sponsor of the California QSO Party, is considering rule changes for 2020 to encourage more expeditions to operate from rare counties by awarding bonus points to club's aggregate scores. Although these are not final, the NCCC is seeking input from clubs regarding the potential changes. Please respond to the reflector or to Bruce (bhorn [at] hornucopia.com) with any feedback or suggestions for other changes. Thanks.
Proposed changes:
1. An expedition that makes at least 100 QSOs in any of the Top 10 rarest counties of CQP 2019, or to any of 25 other counties that were only covered by expeditions or were one station away from being on this Top 10 list: 100,000 bonus points for their club. List of these counties posted on cqp.org.
2. An expedition that makes at least 100 QSOs from any county not covered by #1: 50,000 bonus points for their club.
3. Any operation (does not have to be an expedition) that makes at least 100 QSOs from any of the Top 10 rarest states or Canadian multipliers: 100,000 bonus points for their club.
4. Mobile stations, MCE (Multi-County Expedition), county-line stations and remotely operated stations are also eligible to participate.
5. A club can claim a maximum of 500,000 bonus points. CA clubs and non-CA clubs are eligible for these bonus points.
6. Bonus points are per multiplier, not per callsign. Examples:
a. A club cannot have five expeditions to Trinity County and claim 500,000 bonus points. This would be a 100,000 point bonus.
b. A club can mount an expedition to Sutter County, have another club member rent and operate from the VY2TT lodge in Prince Edward Island, and gain 200,000 bonus points if each station makes at least 100 QSOs.
c. A mobile station that makes at least 100 QSOs in each of five different counties in #1 would contribute 500,000 bonus points to its club.
d. A county line expedition from GLEN/MEND making over 100 QSOs would contribute 200,000 bonus points to its club.
e. An MCE operation from Butte County on Saturday and Lassen County on Sunday, with at least 100 QSOs in each county, would contribute 200,000 bonus points to its club.
7. Bonus points are only added to club totals; individual station scores are unaffected. Bonus points are allocated to clubs in the same way as individual scores: in the case of a Multi-Op expedition where different operators are members of different clubs, the operators may elect to allocate bonus points proportionately across the different clubs.
An excellent CQP analysis write up can be found on pages 7-13 of the March edition of the
NCCC Newsletter
.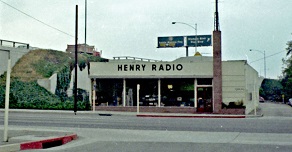 ARRL posted an
interesting article
about Ted Henry, W6UOU. Ted turned 100 years old on January 25. He is the founder of the original Henry Radio shop in Los Angeles (the first Henry Radio store was opened in 1927 in Missouri by Ted's brother Bob, W0ARA). I remember frequenting the L.A. store on West Olympic Boulevard many, many times, browsing all of the radios on the shelves, new and used. Many SCCCers, indeed many contesters and DXers around the country, owned the Henry 2K amplifier (and/or one of its descendants), a brute of an amp that could take the beating that contesters and DXers dish out. You might be surprised to learn that Henry Radio still makes amplifiers to this day, many of which are aimed at the commercial market. Henry Radio was synonymous with amateur radio for many years. You can see what Henry Radio is up to today as well as read about their history and old amplifiers
here
.
Bob, NC6Q worked at the Henry Radio Olympic store in the early 1980's, repairing Henry HT's, FMH2's and FMH4's. He worked with the infamous Frank Cuevas, W6AOA. Bob still has his 2m Henry HT purchased brand new, the model S-1! Arnie, N6HC owned the 2KD-5 desktop amplifier from about 1979 through the late 1990's. He ultimately sold it because he wanted an amp capable of the WARC bands and 160 meters. Tree, N6TR has a 2K Classic floor model (and still owes me a picture!). The 2K-3 was the first amp owned by Marty, N6VI. He later obtained a second one as well. He paired them with Drake rigs back in the 1960's and 70's. One was set up to run on 40 and 15 meters and other to run on 80, 20 and 10. This provided him the ability to operate on the two most active bands at the same time. He used a homemade box to switch PTT, key, microphone and headphones. Over the years, he made a couple of interesting modifications to the amps. One time, he added inductance and a customized input can to get the amp to operate on 160 meters for a contest with N6TR in the mountains. Another time, he shorted part of the output coil and added another custom input in order to get it to work on 6 meters. That helped him snag his first and only African contact (C5AEH) on the Magic Band! Jim, W6YA, in an email to NC6Q that he forwarded to me, wrote about his memories of Henry Radio starting about 1954 when he was first licensed. Jim remembers two small rooms on the side with used gear. He especially remembers an HRO50 or HRO60 that he says was the biggest treasure to admire. Jim bought his first 2K and a Drake line in 1969, and he was in heaven. Frank, W6AOA and he used to butt heads on the air (friendly competition) and became well acquainted. Frank later became Jim's dental patient! Around 1972, Jim obtained a 2K-3, a step up from the 2K as it was running 3-500Z tubes rather than 3-400's. He said the amps were very noisy back then, and some of the guys used big power resistors to slow down the fan speed.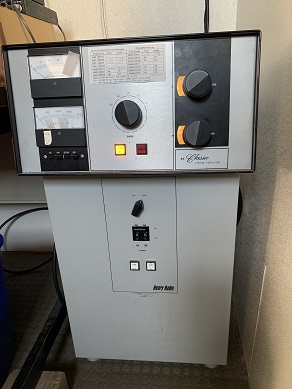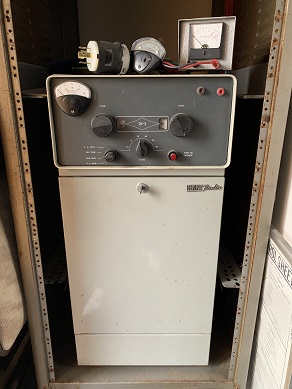 Dan, KI6X sent along the pictures above. The 2K-3 was bought about 1970 for use at the Autonetics Radio Club, WB6YPX, and AF MARS AFC6YPX/AFC6RI in Anaheim, CA. The club has since become K6NX. In the 80's the 2K-3 was used for contesting and sometimes They contested under his call to make it easier. Collins gear eventually replaced everything for MARS use. The problem with the 2K-3 beyond some rectifier replacements, and a tube socket, was that the meters are at chair height and the chair bashed into it one too many times (see broken meter on top). The meters are nearly impossible to find or if found priced too high. The meter box on top is an added plug-in meter to use in its place. This amp has become amp #3 and not currently in use. The other amp, the 2K Classic, was from the early 80's and used at the McDonnel Douglas club, W6VLD, in Huntington Beach, CA. It also saw a lot of contesting in the 80's as W6VLD. It is used very lightly as a second amp at a second club station set-up. There are only enough antennas for one station so it gets very little use. These two clubs have since combined in Huntington Beach, CA with Rockwell and McDonnel Douglas Aerospace companies becoming Boeing and then the closing of the Anaheim facility.
Comments from the ARRL DX SSB contest last month:
Bill, N6RV said it was a rough one. Jim, W6KC reported that he worked most of what he could hear, and was happy to work 4U1UN on 40. Marko, N5ZO operated about 24 hours, which was more than he expected. Sunday morning was good into Europe but he already had most of the stations in the log. Nothing much long path that morning. John, K6AM along with Levi, K6JO and Tim, N6WIN operated from ZF1A. 10 meters was a big fat zero. 15, however opened nicely both days. 20 was their money band. Bruce, WA7BNM did his usual SB20 operation, all S&P during the first 24 hours of the contest. He never copied any Asians other than JAs. He heard some eastern Europeans but was unable to work any. Dick, N6AA had his usual power line noise and had to have the K3's noise reduction and blanker on on all bands. Dennis, NE6I had a new Yaesu FTDX-101MP acquired a couple of days earlier. There were a lot of buttons and menus to learn, and some reading of the manual to do! He reports that the receiver is everything it's cracked up to be! He didn't expect the 3D spectrum scope to be any big deal, having not experienced a good spectrum scope in the past, but wow, Yaesu got it right! it's very configurable and quite helpful! Ray, N6HE commented that he seemed to get through quite well despite using just a 25 ft high end-fed antenna. He was thrilled to work KL7 on 160 barefoot with a high SWR. Larry, K6RO once again had tennis matches interrupting contesting, not to mention some other things going on. Saturday's signals were better for him than Sunday. Dan, N6MJ was at the TI7W station. He reported that 10 was a major disappointment, and only logged 27 Q's there. 15 was much better. 40 proved to be "magic" from that station, as he put it. Bob, KF6I used an inverted-L that worked very well for him. He worked all that he could hear. Bill, W6QU operating W8QZA QRP (as usual) said conditions seemed worse than during the CW weekend in February. He did manage 3 Q's on 10 meters. No EU or JA on 15 though. He He managed 3 EU both days on 20, did well into the Caribbean on 40 and worked two JA's on 80. Jim, N6TJ operated from KH6LC and was almost always loud at the QTH of NE6I. And I might mention, he had beautiful audio!
Speaking of the ARRL SSB contest, Randy, K5ZD posted some interesting comments about his operation at V47T. As well, you can
listen to audio captures
of his contest audio by scrolling down to the rate sheet, select an hour and click on Listen. The links seem to be March 8 but if you want to hear March 7 audio, change the date in the URL.
Did you catch it? The February, 2020 issue of CQ Magazine is the annual QRP issue. In it, SCCC member Bill, W8QZA / W6QU is featured in the article entitled "I'll Get it Done With QRP or it Won't Happen!" We also get to see pictures of his shack and antennas (different from those posted on his QRZ site). Bill is an avid QRPer and regularly turns in amazing contest scores.
Tim, K3LR will be hosting Team Exuberance again this year, this time for WPX CW. The team is made up of a group of young contesters (teens and early 20-somethings) that are making some serious noise in the radiosport world. They took first place in North America in the Multi-Two category last year in WPX SSB. They have a
GoFundMe page
to help pay the estimated $8,000 needed for airfare, hotel, transportation and meals during the contest. This year's lineup does not currently have any SCCCers.
The
September VHF contest results
have been posted by ARRL. Wayne, N6NB piloted his rover station to first place in the Classic Rover category with just over 162K points! Wayne has a long history of roving in various VHF contests, and now has at least a division win in each of the past seven decades! Tim, N6GP was also a rover in the contest and placed 5th overall in the Limited Rover category.
The November, 2019
SSB Sprint
results are out. Levi, K6JO placed fourth and Marko, N5ZO placed sixth overall. Nicely done, guys. The next edition is April 5 at 00Z.
Also recently published are the preliminary
February, 2020 NAQP RTTY
results. SCCC #1 appears in 10th place by the slimmest of margins (188 points!). Our entrants were more on the casual side than serious.
On March 24, RSGB announced that it will not accept contest entries from portable, alternative addresses, or multi-op stations in light of Great Britain's recently updated position on people's movements (think COVID-19). They are also not enouraging travel to island locations for the July IOTA contest. More on the subject can be found
here
. Will other organizations and contest committees follow suit? These are trying times for all of us. Be safe! COVID-19 is serious stuff! Practice your social distancing at all times!
Cartoon used with permission of renowned disc jockey Bobby Ocean! Bobby's resume includes runs at legendary stations like KGB, KCBQ, KHJ, KFRC, KYNO and KWST.
Strange but true...
Most lipstick contains fish scales!
73 for now,
--Dennis NE6I
less