There is still time to donate to Team Exuberance and their CQ WPX SSB effort in late March. As you may recall from an earlier SCCCORE writeup, the team is made up of six youngsters (mid-teenagers) who plan to travel to the K3LR contest station to compete. Donations will be used to fund transportation, hotels, meals and other trip related needs for these six and a few accompanying adults. The team consists of KM4ATT, KG5HVO, VE7DZO, HA8RT, K6JO and NN1C. You might recognize one of the calls in there as an SCCC member. Hint, formerly KK6NON and W6BQ, now K6JO! The Team Exuberance fund raiser has a goal of $5,000 and is very nearly there. I personally donated earlier in the name of SCCC. If you feel this is a worthy effort to encourage young contesters, you are invited to donate as well. Their Go Fund Me page is located
here
.
During last month's CQ WPX RTTY contest, my mind got to wandering while S&Ping Sunday morning. I worked out 40 meters, 15 wasn't open yet, and signals on 20 were still weak and fluttery. I was having trouble decoding much of anything, and started wondering if the 2Tone decoder would help. A quick search on the web brought me to the excellent
RTTY Contesting
web site. Installation looked simple enough. Hmm. I'm normally not one to fool around with things in the middle of a contest, and indeed, I told myself, no, don't do it! However, another 20 or 30 minutes of weak and fluttery signals caused me to throw caution to the wind. As it turns out, installation of a second receive window and 2Tone is very simple, and I had it up and running in minutes. This setup allows MMTTY and 2Tone to operate in parallel under N1MM+. I quickly noticed that yes, sometimes 2Tone would fully decode a signal where MMTTY didn't. However, there were other times where the opposite was true. Never-the-less, the addition of 2Tone to my N1MM+ setup was helpful as it gave me some decodes that I otherwise would have missed. You might even say that I finally got with the program! Pun intended! I'm often slow to try new things, and I know many of you have 2Tone and even GRTTY installed next to MMTTY, but if not, and you're interested, read up on it at
RTTYcontesting.com
.
Speaking of the WPX RTTY, the raw scores were published post haste (mid-Feb, a mere week after the contest)! W0YK tells us that the raw scores are generated by the log checking software before any reductions for errors and omissions. He stated that the final results will be published in the July issue of CQ Magazine and on the CQ WPX RTTY Contest web site. The
raw scores page
shows Bill, W8QZA piloting W6QU to 3rd place in All Band QRP in North America. Way to go, Bill!
There seems to be quite the attraction to the lower 10 kHz of the contesting spectrum for many that like to run. During a RTTY contest, it's especially challenging there. Everyone is on top of each other and despite heavy duty filtering, narrow receive bandwidths, IF shifts, et al, it's very challenging to decode anything. Meanwhile 20 kHz and up from the lower edge, no sweat. Perhaps those that pack themselves into the lower 10 kHz will consider spreading out a bit instead.
Final results of the February North American Sprint CW have been
published
. Participation was up substantially, making the contest even more fun than usual. Over the past decade the article says, the twenty winning operators (two Sprints per year) have predominately been in the western USA, and most of those in the Pacific Time Zone. Dan, N6MJ finished 7th overall. It now takes 15K points to make the top ten. Wow! The Top Ten QSO Totals box shows Dan at 5th and Marko, N5ZO at 10th. Axel, KI6RRN dipped his toe into this one, his first time ever in a Sprint. His 285 QSO total was outstanding for a first timer. We hope he'll be back for more down the road. The SCCC #1 team finished 2nd overall, just 6K points behind NCCC #1. Let's get 'em next time!
The 2018 IARU HF World Championship results were published in the March, 2019 issue of QST. Dick, W6TK placed 4th in the Single Op, Mixed Mode HP category. Axel, KI6RRN at WA6TQT took the top spot in the Single Op, Mixed Mode LP category. Paul, WN6K was 5th in that category. Alex, W6AFA placed 3rd in the Single Op, Phone Only HP group. Marko, N5ZO took 4th in the Single Op, Unlimited, CW Only HP category. All of these are in the US/Canada standings.
Preliminary results of the 2018 ARRL 10-Meter Contest have been published on the ARRL web site, although they are not complete. The only news I gleaned from there is that Bill, W8QZA operating with club call W6QU has won the Single Operator, Phone Only, QRP category. Bill you must be a masochist, but congrats!
Last month's ARRL DX CW contest brought out the troops! And by all accounts, was thoroughly enjoyed by everyone despite being at the bottom of the sunspot cycle. The SFI was at 70, A index at 4 and K index at 2. That made for quiet conditions, which helped with the lower strength signals all around. There were even a few spots on 10 meters! Let's see if the March Phone contest results in similar good fun. Some of the comments by SCCCers follow. "I have never worked as many Italian stations. It must be WRTC fever." "Nice opening to Europe on Saturday morning." "Great conditions Friday evening (stateside guys down in signal strength while DX was coming through well)." "Much noisier on Saturday than Friday." "40 meters opened to Europe both days before sunset and on Sunday, they were coming in just after 2 pm." "160m propagation from the Central Coast was pretty good into Zones 7, 8, 9, 14 and the Pacific. 80, 40, 20 and 15 had good propagation and were also pretty crowded." "Only put in 8 hours but had a couple of very nice EU runs on 20m both Saturday and Sunday." "Decent JA run on 20 on Saturday afternoon. Most notable moment was being called off the back of the antenna by ZT1T during a JA run." "Nice opening to EU Saturday morning, but was surprised by what seemed like fewer SA stations. Glad to hear and work a 4X, since I haven't heard one in a DX contest in quite some time. Fun contest." "Not much on 10, 15 was a little better but hardly great. 20 was fantastic most of the weekend. I heard/worked many strong Eu stations on 80." "Broke one of my old records - DXCC in 7.5 hours. This time, did it in 7.1 hours."
In June, we shared that Kenwood had announced the new TS-890S and Yaesu had announced the new FT-101D during last April's Dayton Hamvention. At the time, a few dealers were taking pre-order reservations. Well, the wait is over. Dealers are now taking full orders on what appears to be two FB new radios. These two radios are expected to be awfully good rigs for contesting and DXing. Reviews from users will be interesting to read. I, for one, will be watching eHam for new reviews.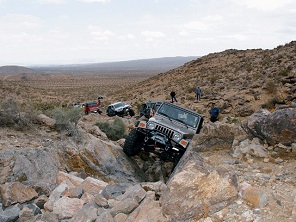 I run across some really interesting, bizarre and sometimes scary things in my travels. Here, a picture from Kent's N6WT QRZ web page. I presume this is Kent in the Jeep. And no, I don't think this was an accident. I think this was intentional! His other hobby is the Desert Dawgs off road club. Thanks to them, Kent also got into amateur radio!
Managing contest teams can be hazardous to your health! Mental health, that is! The goal, of course, is to put everyone on the team where their score will maximize that team's score. That is, your highest scorers on team 1, next highest on team 2, etc. As a team organizer, your hope is to get that right every single time. In practice, it is VERY difficult to achieve. Despite your best efforts, things can happen. One of your high scorers has rig problems, software problems, or worse, and turns in a lower than expected score or a goose egg. Of course, no one is to blame for the unforeseen, but I still smack myself in the head sometimes when it happens. Conditions can play a part too. While we all live in Southern California, our territory is pretty far and wide. Conditions can vary just enough across the region to affect scores differently depending on where an operator is. Local QRN or interference can also tank one of our team member's scores. Or an unexpected visit from relatives. There are a plethora of things that are well beyond our members' control and that can affect a team score. Sometimes we get a late entrant/volunteer to be on a team, and that person should be on team 1, but I've already published the teams. Or, I misjudge the anticipated score by an entrant and place him or her on the wrong team. Argh. I take it all very personally because I want us to field the highest scoring teams that we can. I will say this. The February CW Sprint was a team manager's dream come true. We had ten operators volunteer to be on a team, and all were historically high scoring operators! I had to carefully select whom to put on which team. I mulled it over very carefully, and was pretty sure that no matter what, I would have several on the wrong team. It all worked out in the end, and we had two very strong performing teams with awesome final scores. Two full teams with everyone over 11K points in the Sprint?! Crazy good. That said, I hope that everyone will always sign up to be on a team. No matter your score, high, medium or low, we need you. NCCC had four teams in the February Sprint. There is no reason we can't have that many. We always, always, always want all of our club members to contribute to SCCC team and club scores!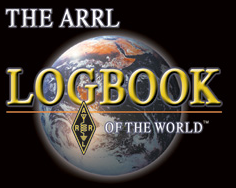 ARRL is reporting that LOTW (Logbook of the World) has reached one billion QSO records! That's crazy! The one billionth QSO record was uploaded by 7X3WPL. It's true though that many DX stations (and even some domestic stations) have found it challenging to register for LOTW. I'm sure that many of you have read some rants about that on QRZ.com web pages. I know that ARRL is working to streamline the process. That said, it's an awesome (and quick!) way to get that needed QSL for DXCC, WAS, WPX, or WAZ. Impressively, contesters seem to be in tune with LOTW. Confirmations generally pour in quickly within hours of the end of a contest. And I must salute ARRL for its efforts in preserving the integrity of DXCC and other awards through the system.
Strange but true...
Tablecloths were originally meant to be served as towels with which dinner guests could wipe their hands and faces after eating.
73 for now,
--Dennis NE6I
less