The CQWW DX CW contest in late November brought out the usual crowd of contesters world-wide. Many were feeling comfortable enough to travel to DX destinations for the contest. A few countries were still closed or had restrictive COVID restrictions. Conditions were not quite as good as during the October Phone contest but they were better than in 2020. 15 meters was open and 10 did have its periods of activity. Some comments from SCCC participants follow.
Ryan, AI6DO had originally planned to operate Sunday only but family plans changed and he found time Friday night and the first half of Saturday. He felt that propagation was poor during those times and he had trouble working much of anything. Signals had severe flutter on them and were QSB on Friday and Saturday. Kent, N6WT was happy to have 10 and 15 alive again. Bill, N6RV reported that conditions were not as good as during the SSB weekend. Sunday seemed to have been the better day. 10 was flat but 40 through 15 meters were great. Steve, AA6AA did single band 20 meters from the W7RN station and said that the conditions were great! Morey, W6GMU had little time to operate and reported conditions as fair. David, K6FA had a great time and logged on paper since his typing skills aren't the greatest. Ken, K6LA was at his VY2TT PEI QTH and heard a few Europeans on 10 on Saturday but said the band didn't really open that day. Sunday was a different story though and at times the opening was strong. He recorded 212 Q's on 10. His score of nearly 8.9M points is a hefty one!
Eric, NC6K ran his new Elecraft K4 as SO2V. He said there are some great features and some issues with the K4 in its current state, but overall he said that it performed very well. Conditions were so-so at night for him but daytime was much better, especially on Sunday. He had a great run of about 150 Asians in the last 2-3 hours of the contest. He said it was great having 15m wide open for several hours at a time and actually making QSOs on 10. Jim, N6TJ has been doing CQWW contesting for 67 years now. He was at KH7M on the big island of Hawaii again this year and had a great time. Mults were down compared to his last trip there in 2018. He got to use the new Elecraft KPA1500 amp and called it a "contester's delight!" Half tongue in cheek and half not, he suggested a Senior's Multiplier for those over 80 years old. And why not with all of these Rookie and Classic Overlay categories, right? It might be time the other end of the spectrum gets some attention. Bob, KF6I focused on the upper bands and said that 15m was hot. He also had fun working Europe on 40m on Saturday night. "There were several good Qs for me in this contest. On 40 Meters, using a trap dipole only 32 feet up, I managed to work CR3W (who always hears me, somehow!), ED1R, and CR6K. On 20 Meters I got 3B8M when no one else was calling him, and then, with 30 minutes to go in the contest snagged VK6T on the LONG PATH. Finally, I got mega-station JA3YBK on 10 Meters at 23:59. They were the only JA I heard on 10 Meters. QSOs like these make this contest for me. The thrill lasts for hours and sometimes days. ...and you really can't explain it to anyone outside the DX community."
Dan, N6MJ has been at ZF1A the past six years but the island was closed so he would have been stuck operating remote again. Instead, he operated from Kam's excellent TI7W station in Costa Rica. He had most of the tough mults calling him for once! He had large pileups and didn't get much time for tuning for mults, so that worked out well (them calling him, that is). He called conditions good but not great. He has a plethora of detail about the operation posted on the
3830scores web site
. Jim, W6YA was surprised to not hear a single VK or VK6 but said that 3B8M was heard no matter which direction his antenna was pointed, often with an S-9+ signal. Jim had severe line noise show up at the station two days before the contest with periods of S-7 for about 30% of the time. Ouch. Bill, W8QZA was again W6QU and QRP. His first radio contest ever was CQWW CW back in 1956 at a friend's QTH. Two years later, he did it from his own station for the first time. He too reported poor conditions the first night but they picked up for him Saturday morning. And things were good the rest of the time. Marty, N6VI had limited time available due to an out of town trip but had fun, even with low wire antennas.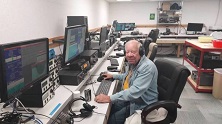 Jim, K6ZH was up at the KL7RA Multi/2 operation, and it's looking like they will perhaps finish #3 in North America behind a couple of East Coast stations. They appear to have had a whole lot more Q's but way less mults. They powered their way to 9M+ points. They experienced a four hour radio blackout early Sunday morning. Such is the way in KL7! Photo at left is Jim working 15m at KL7RA. He is working on an article about the operation that will appear here on the SCCC web site. Bruce, WA7BNM debated whether to go single band 20 or 15 but wound up going with 20. He too reported poor conditions Friday evening but improved Saturday morning. He crashed the pileup for 3B8M and that afternoon had a nice run of JAs. Drew, N7DA again operated from a nearby park with a decent horizon to the east through the north. He went there to work Europe in the morning and then went home to do some other things. And then back at it for Asia in the afternoon. He didn't hear any VK or ZL this time, which he says is unusual.
Jeff, W6JK said it was good to work some CW again. His highlights were working Mauritius on 20, Romania on 40 and South Americans on 10. Dick, W6TK did about half of the contest. He said conditions seemed good Friday night and Saturday morning, but things got noisier after that. He had a lot of JA QSOs and some good EU on 40 including long path in the mornings. He had trouble with the 9G but finally logged him. He snagged the 9X4 also but could not get the C9. He never could hear the 5V. He did work the EL2 on 20m late Sunday. He was hoping to work Jim at KH7M on five bands but only managed three. Don, N6IC said that 15 was full of JAs. He looks forward to 10m getting better.
A mere one week after the contest, the CQWW DX Contest Committee posted the
raw scores
for the contest. Dan's N6MJ SOABHP score from TI7W leads the pack, and by quite a bit. Ken, K6LA and his VY2TT score is 5th. These raw scores are before duping and log checking by the committee.
As a reminder, if you have moved or are planning to move out of the SCCC area, please let us know so that we can update the roster and provide a more accurate membership list to contest committees that require one for their club category in contests. We can't know that you have moved unless you tell us. We will move you from the list of Full Members to the list of those outside of the ARRL 175 mile radius. Please notify Bruce, WA7BNM and CC Dennis NE6I. Thanks!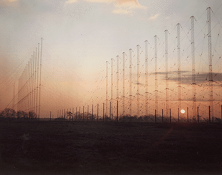 Just what we need, huh?
The IARU
is reporting that a new Over-the-Horizon radar system is being built in India to keep a close eye on Chinese movements in the Indian Ocean region. As of the report in late November, the design is complete and the next step is to prototype it. As you are likely well aware, OTHR systems often create strong interference in the amateur radio bands. Ugh.
Jim, N6TJ will once again be out in Hawaii next month for the ARRL DX CW contest. He'll be using the call KH7Q. He will also be in Hawaii for the Phone contest in March as well as both CQ WPX contests coming up. For updates on other contest expeditions, keep an eye on the Contest Expeditions web page (button located on the righthand side of this web page).
As contesters (and most of us are also DXers), we are all very familiar with the solar flux (SFI), A index and K index. Or, at least we know that we like to see the SFI as high as possible, the A index as low as possible and the K index at 0 or 1. But do you know how the numbers are derived? You can learn about it in
the article found here
. It's some interesting reading.
The Dayton Hamvention will return
in person
this coming May. And with it, Contest University will return in person. The web site says, "Don't miss this rare opportunity to gain knowledge that may take you years of practice, trial and error or lost time to learn otherwise. Get the edge to improve your scores and put your station in the winners circle today!" Find out more and register at the
Contest University
web site.
Bruce, WA7BNM reminds us of a couple of contest rule changes that are effective in 2022. The ARRL has reduced the maximum power allowed for low power entries in HF contests from 150 to 100 watts. This also includes the IARU HF but excludes Field Day. Also, the NAQPs will recognize a separate Single-Op Assisted category. Such entries will no longer be considered M/2. NAQP teams can consist of a mix of SO and SOA entries.
Just a reminder about our For Sale/Wanted listings on the home page. Peter, NI6E listed his TV van complete with generator and mast in early December. Good looking van! Great for contesting, VHF/UHF roving, POTA, SOTA, etc.! If you have any for sale or wanted items that you would like listed, please let me know.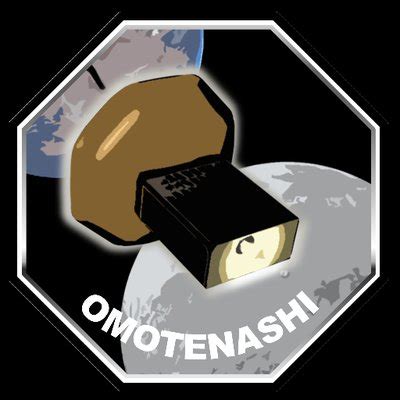 The moon as a new multiplier?! Well, not quite yet but... A Japanese moon lander will possibly be placed on the moon next month and will include a beacon at 437.41 MHz (amateur radio 70 cm band) using FM, PSK31 and PCM-PSK/PM. It probably won't be long before someone places an amateur radio transponder on the moon, and frankly, it might not be too awfully long before a ham operates from the moon. Imagine the pileups! Read more about next month's moon lander
here
.
EZNEC (PRO/2) is now free (effective January 1, 2022). Yes, you read that correctly. The author, Roy Lewallen, W7EL is
retiring
after 31 years of coding EZNEC and its predecessors. For various reasons, he has decided against selling or transferring ownership to someone else, and he does not plan to release the source code. There will be no support for any of the EZNEC programs foing forward. Yes, he is "cutting the cord" completely and retiring in full. However, EZNEC Pro2 is now available for download and free use. EZNEC is an antenna analysis and modeling tool and has been used by more than 13,000 customers for many years. More information can be found at the
EZNEC
web site. A similar piece of software is
4NEC2
by Arie Voors. 4NEC2 is also free. Both of these softwares have a bit of a learning curve but resources can be found on the web.
Strange but true...
The only member of the rock band ZZ Top without a beard is Frank Beard. Ironic.
73 for now,
--Dennis NE6I
less