Our contest station JT5DX is located 370km northwest of Ulaanbaatar capatal city of Mongolia. It is 15km away from the Russian border. It takes about 5-6 hour using public transportation and 3-4 hours with car to get to JT5DX contest station from Ulaanbaatar.
It is located in my company "Arvin Khur". Arvin Khur is an Agricultural company located at JT5. The company mainly plants wheat and Canola and also sell products such as Cold pressed Canola Oil, Natural Honey etc.
It is about 20-35 degree celsius in the Summer and -15- -35 degree celsius in the winter. During fall there are many mosquitoes. It is also very close to the Selenge river.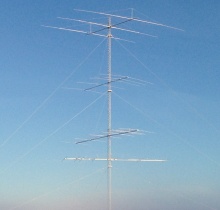 At the JT5DX contest station there are 2 Rotating Rohn45 towers 40m height and 2 fixed 43m tall towers with 40m 3 ele yagi x2, 20m 5 ele yagi x2, 10m 7 ele yagi, 15m 7 ele yagi and monster 160 m 4sq 80m 4sq as antennas.
My rig Elecraft K3, IC7800, FT2000, FT1000MP, FT100, ACOM 2000, TOKYO HY POWER 3.5k, ALPHA 87A, PV.
With this equipment it is possible to work with multi-multi Multi2 and Multi single during contests. Contesting from here it is very comfortable with warm housings, full plumbing, warm water and everything you would expect from comfortable and enjoyable contest station.
It is comfortable in all seasons because of the buildings and there are no problems regarding weather. Also we have accommodations available for contesters to rest and take a shower.
It took almost 4 years for the contest station to be fully operational and we may choose to add more things to the contesting station in the future.
I have had many great contesting experiences at my contest station and also many great achievements. Many of my contesting informations are available on the internet, you may search for JT5DX to see clear examples of how amazing the contest station functions.
We also have had many operators to our station as guests such as YT1AD Hrane, K1LZ Krassy, K4ZW....... We are now planning to put together a contest group with member from all around the world that are willing to come and work from Mongolia.
We may rent the contest station, as we are currently not sure about that we are still interested in contesting ourselves for the next few years. We may rent the contest station during regular periods if people are interested in working from Mongolia.
less